| | | |
| --- | --- | --- |
| | Jane Maclean | |
---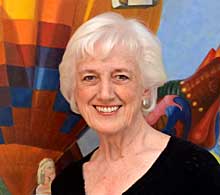 Jane's early years were spent in the seaside villages of Mystic and Stonington, Connecticut. It was an Old Mystic elementary school, itinerant art teacher, Mrs. Downs, who began unlocking for Jane the mystery of creating art.
For most of Jane's adult life she has been living and working in New Mexico. This state, known as the Land of Enchantment, is all of that! Artists are drawn to the dramatic light, landscape, and weather. It was natural for Jane's artwork to turn to the culture of the Southwest, featuring portraits, authentic pottery, textiles and jewelry. She enjoyed studying the textures, colors and designs of select pieces. Early in Jane's career, a prize-winning painting, a Native American still life, was purchased by the renowned, Santa Clara potter, LuAnn Tafoya. Later, more still life paintings and awards led to an opportunity for Jane to design and create public art for a new Judicial Complex. The commission was offered with these words, "What would you do with this space?" It was more than fourteen linear feet of wall in a future rotunda. Jane could dream and plan before the ground for the building was broken. From JaneMaclean.com, under Public Art, you will see the details and stories of those paintings. It was a project that required two years to complete.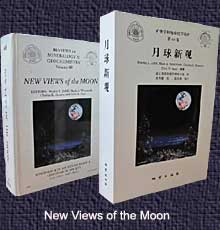 When Jane wondered what could possibly follow that exciting rotunda opportunity, her next painting, Tea with Catherine, an image of Russian stacking dolls with Russian tea cup and cookies, won Best of Show. The competition was Master Works of New Mexico, which is all New Mexico, all artists, with a variety of media. Over time there were feature articles in newspapers and magazines, and paintings for book covers. Jane's image, New View of the Moon, now appears on a Chinese translation of the original scientific book, New Views of the Moon.
Opportunities for Jane to speak about her art have been offered. She was an invited speaker at the 2010 Biennial of the National League of American Pen Women in Little Rock, Arkansas. In 2011, she presented a program on the subject of Merging Art with History for the University of New Mexico Continuing Education program.
Jane remains enthusiastic and open to creative opportunities. She delights in her passion for art, wherever it takes her. Interestingly, it was a return in 2010 to Stonington, Connecticut, for a class reunion, which united Jane's love of art, and the opportunities at the biggest art competition in the world. A former high school classmate, who now lives near Grand Rapids, had been relentless in encouraging and supporting Jane's participation in 2012 Art Prize. And so it was that her painting, MAGIC, entered the scene. This painting, her most monumental in size and scope, challenged Jane on every level. The size, six-feet by twenty-feet, and special effects demanded serious study and enhanced techniques. The chosen subject, hot air balloons, is symbolic of Jane's artistic journey. She made a conscious decision to un-tether herself from familiar ground, glide above the scene, and gain a new perspective on what she could create. The colors and shapes, texture and movement, shadow and light of MAGIC beckon the viewer to be involved in a glowing promise that rises gently to a bright future. It's MAGIC!
---